About
We are a mobile service and service most of Southern California. You may come to our facility as well to have any type of vehicle glass repair done.
Alfa Auto Glass has been proudly serving Orange County's auto glass repair and windshield replacement needs since 1988. We care about helping you fix your glass. No matter how you broke your window, whether it was an accident, theft, vandalism, rock chip, or golf ball – we know having a broken window is a major headache.
Here at Alfa Auto Glass we take the headache out of getting your window fixed, just call or submit a quote today and a highly trained experienced repair person will come to you and take care of your window. Auto glass repair in Orange County is quick, easy and affordable. Alfa Auto Glass, unlike many glass repair agencies, does not outsource our work. The person you talk to on the phone is the person who comes to repair your glass. What this means is that a technically trained service agent will guarantee that you get the right glass and materials to fix your job the first time.
At other glass repair shops, you talk to a receptionist who is unfamiliar with the subtle nuance of glass repair. We get it right the first time, with top-notch customer service every time. This is how we have managed to stay in business for 20 years. We put customers first. Whether it's providing free mobile windshield replacement in Orange County, high-quality auto glass replacement with the best parts and procedures in the industry, or our Alfa 100% satisfaction guarantee and our commitment to safety, every aspect of our affordable windshield replacement Orange County business focuses on you the customer.
Alfa Auto Glass is Orange County's company of choice when you need windshield replacement and auto glass service. No matter what your auto glass repair or windshield replacement needs are, Alfa Auto Glass has the experience and services guaranteed to get you back into your car as soon as possible. We offer affordable auto glass repair and windshield replacement in Orange County, Southern California with quick, friendly installations and a big smile! (we love what we do).
Finally, we don't just repair and replace car windshields, we also service semi-trucks, medium duty trucks and RVs. We're also known for our speedy Tesla windshield replacement service!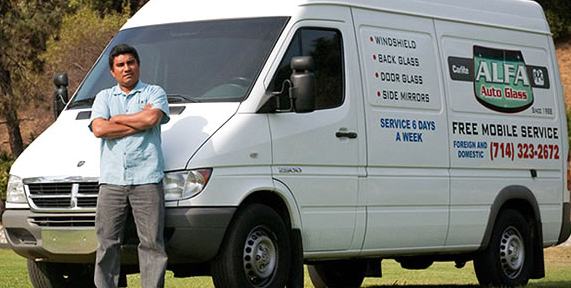 Real Yelp Reviews
Guilmar and Fernando were fantastic. I was referred here by a nearby Toyota dealer, and they were fantastic to work with! They took my questions seriously and made sure the job was completed well, test driving to ensure the window was fixed and all the safety features were calibrated correctly. I highly recommend this company!
April J.


11/06/2023
Someone thru a rock through the back window of my RV.  I called Alfa glass, told them my problem, gave them my insurance info and they took care of the rest.  I called a couple places and Alfa was the best priced.
Verna H.


3/27/2023
I stumbled upon Alfa Auto Glass after having been given the run around with my insurance company and a well known auto glass company. I was told by the previous glass company that they would not be able to get me the OEM glass I wanted for my Range Rover.  I was also told the pillar molding would most likely break apart when they needed to instal my new windshield and that the company would not be held responsible for any damages done to my vehicle as well as not be able to recalibrate my car.  Needless to say, after 2 long weeks of frustrations, I was able to get in contact with Alfa Auto Glass.  Guilmar was so pleasant and helpful! He assured me they would be able to have the OEM glass as well as deal with the insurance themselves. After they got my insurance to approve the work, they came out to my house the following day and made everything just seamless from there on out, including keeping the pillar molding intact!!! I highly recommend them and their team and I look forward to using them again if I ever have any more glass damage in the future. Thank you Guilmar!
Crystal R.


3/17/2023
| | |
| --- | --- |
| | |