About
We are a mobile service and service most of Southern California. You may come to our facility as well to have any type of glass repair done.
Alfa Auto Glass has been proudly serving Orange County's auto glass repair and windshield replacement needs since 1988. We care about helping you fix your glass. No matter how you broke your window, whether it was an accident, theft, vandalism, rock chip, or golf ball – we know having a broken window is a major headache.
Here at Alfa Auto Glass we take the headache out of getting your window fixed, just call or submit a quote today and a highly trained experienced repair person will come to you and take care of your window. Auto glass repair in Orange County is quick, easy and affordable. Alfa Auto Glass, unlike many glass repair agencies, does not outsource our work. The person you talk to on the phone is the person who comes to repair your glass. What this means is that a technically trained service agent will guarantee that you get the right glass and materials to fix your job the first time.
At other glass repair shops, you talk to a receptionist who is unfamiliar with the subtle nuance of glass repair. We get it right the first time, with top-notch customer service every time. This is how we have managed to stay in business for 20 years. We put customers first. Whether it's providing free mobile windshield replacement in Orange County, 24-hour scheduling, high-quality auto glass replacement with the best parts and procedures in the industry, or our Alfa 100% satisfaction guarantee and our commitment to safety, every aspect of our affordable windshield replacement Orange County business focuses on you the customer.
Alfa Auto Glass is Orange County's company of choice when you need windshield replacement and auto glass service. No matter what your auto glass repair or windshield replacement needs are, Alfa Auto Glass has the experience and services guaranteed to get you back into your car as soon as possible. We offer affordable auto glass repair and windshield replacement in Orange County, Southern California with quick, friendly installations and a big smile! (we love what we do)
Finally, we don't just repair and replace car windshields, we also service semi-trucks, medium duty trucks and RVs.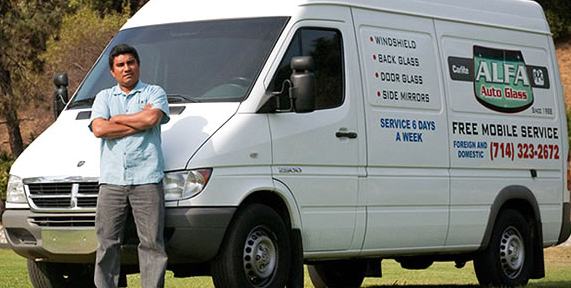 Real Yelp Reviews
Alfa came highly recommended by my trusted mechanic and they definitely delivered. I would absolutely go to them again for auto glass service. They even brought certified techs for calibration of my car's safety systems after install of the new windshield. I used their mobile service, they came to me and performed the work onsite. They also worked with my insurance to make sure billing was handled quickly and properly. Everything is fixed and I am very happy.
Sydney H.


2/02/2023
A rock cracked my front windshield and i went with Alfa since they had excellent reviews and were close by. They will come to your home to evaluate the damage and mine ended needing the entire windshield replaced. It was no hassle and I was very satisfied with the work. Would definitely recommend.
Michael T.


8/24/2022
We broke our dining room window on our Grand Design Solitude 5th Wheel.  No one could help us, Insurance Co said we would have to go to Indiana! No one does R V glass
I tried Google again and this Company came up. I phoned and Guilmar was at our campsite in Oceanside the next day.  He was professional, efficient and knowledgeable. We felt like we were in good hands!  He took the entire frame with him, covered the area with plastic so we could move to our next site.
We now have a new dining window!
I can't say enough good things about Guilmar and the company.
Sue F.


5/24/2022
| | |
| --- | --- |
| | |