Chrysler Windshield Replacement & Window Repair / Replacement
Chrysler Windshield Replacement: We Replace and Repair Windshields For All Chrysler Models
Alfa Auto Glass has been servicing all of Southern California since 1988. Our service is 100% mobile, which means we come to you. For over 30 years we've been performing Chrysler windshield replacements and fixing broken Chrysler windows.
Call (714) 323-2672 for a free quote today.
Chrysler Models We Service
We can repair or replace the windshields of any of the following Chrysler models:
| | | |
| --- | --- | --- |
| 200 | Crossfire | New Yorker Fifth Avenue |
| 300 | Daytona | Pacifica |
| 300C | E-Class | Pacifica Hybrid |
| 300M | Grand Voyager | Prowler |
| Aspen | Imperial | PT Cruiser |
| Cirrus | Laser | Sebring |
| Concorde | LeBaron | Voyager |
| Conquest | LHS | Town and Country |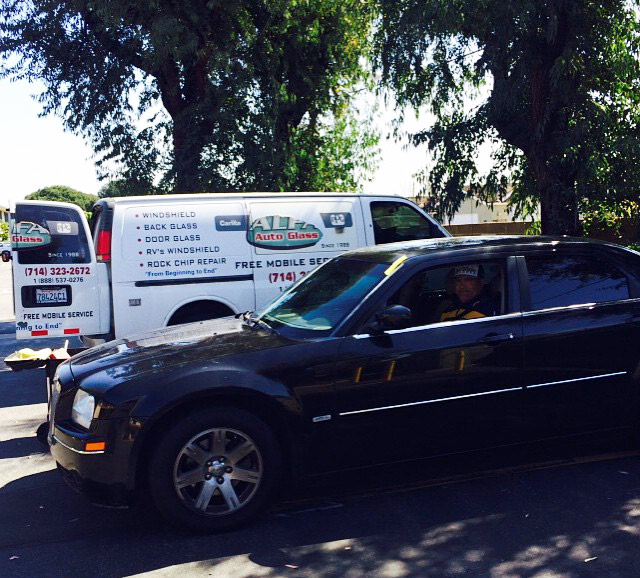 Newly Installed Windshield on a 300
Vintage / Classic Chrysler Windshield Repair and Replacement
We can replace most vintage Chrysler windshields. Since we're located in Southern California it's easy to procure the correct windshield quickly.
More importantly, we've been replacing and installing windshields on classic and vintage cars for over 30 years. We have a special process to protect the interior of your RV and to protect the exterior paint and paneling.
Will my insurance cover the cost of replacement?
Most insurance companies will help with the majority of the repair and we'll help you get the best deal around.
How long does it take to replace a big front windshield?
The average time it takes to replace a Chrysler windshield is about one to one and a half hours. Once we arrive at your home or office, you can simply open your door and we'll get to work. You're free to get back to work or just watch Netflix while we finish your windshield replacement.
What about tiny cracks or chips?
Yes, we're able to use a resin treatment to help stop the spread of a windshield cracks or chips if they are small. The process only takes about ten minutes to complete.
Other Chrysler glass and window repair services
We do more than repair and replace windshields. We can also:
Replace side mirrors
Fix / replace broken rear windows
Quarter glass replacement
Fix window regulators (the motors that make windows go up and down)
Windshield calibration
Chrysler Pacifica rear window
Chrysler Pacifica quarter glass
Side Mirror
Additional Resources
4 Wiper Blade Warning Signs by Mopar