Land Rover Windshield & Window Repair / Replacement
We come to you!
We service Southern California only.
Alfa Auto Glass is a mobile windshield repair and replacement service. We have been servicing all of Southern California since 1988.
We can travel to wherever you are, whether it's at your home, office or preferred meeting location. All repair and replacement work can be done on the spot.
If your Land Rover has a chip, crack or has been damaged, please call us at (714) 323-2672 to schedule an appointment or to get a free quote.
We can repair or replace windshields on the following Land Rover models:
Defender 90
Defender 90 V8
Defender 90 X
Defender 90 X-Dynamic
Defender 110
Defender 110 V8
Defender 110 X
Defender 110 X-Dynamic
Discovery S
Discovery Sport
Discovery Sport R-Dynamic
Discovery Sport S
Discovery Sport SE
Discovery Series I
Discovery Series II
Discovery 3 / LR3
Discovery 4 / LR4
Range Rover
Range Rover Evoque
Range Rover Evoque S
Range Rover Evoque SE
Range Rover Velar
Range Rover Velar S
Range Rover SE
Range Rover Sport
Range Rover Sport Autobiography Dynamic
Range Rover Sport SE
Range Rover Sport HSE Dynamic
Range Rover Sport HSE Silver Edition
Range Rover Sport HST
How much does it cost to replace a Land Rover windshield?
The price to replace a Land Rover windshield depends on the model and year. Generally, the replacement price ranges from $1,000 to $1,600. If you only have a rock chip, the repair is $75.
How long will it take to replace a Land Rover windshield?
Once we arrive at your home, office or wherever your car is located, the average time it takes for us to replace a Land Rover windshield is two hours.
Is there anything Alfa Auto Glass needs to know about the vehicle before an appointment is made?
We will be sure to ask if you have a newer model Land Rover and whether or not you have windshield features like lane departure, forward collision or heads-up-display.
Range Rover windshield replacement in Orange County, CA
Do you replace vintage, old or antique Land Rover windshields?
Thanks to our decades of windshield replacement experience, we can work on any car or vehicle regardless of when it was manufactured. The only question is if your windshield can be sourced. If you already have the windshield in your possession, we can install it. If you don't have the windshield yet, we can always make some calls to see if it's available.
If you'd like to call us at (714) 323-2672 regarding the repair or replacement of an older / vintage Land Rover, then be sure to have your VIN number handy.
Do you replace Land Rover windshields for models that we're not sold in the North American market?
It depends on the model. There's a high likelihood that we can. However, we can only do the repair within the boundaries of Southern California (anything south of Lompoc).
Can you calibrate Land Rover windshields?
Yes we can. Let us know if your model has lane departure or ADAS when you call (generally, newer models will require windshield calibration).
Who makes / manufacturers Land Rover windshields?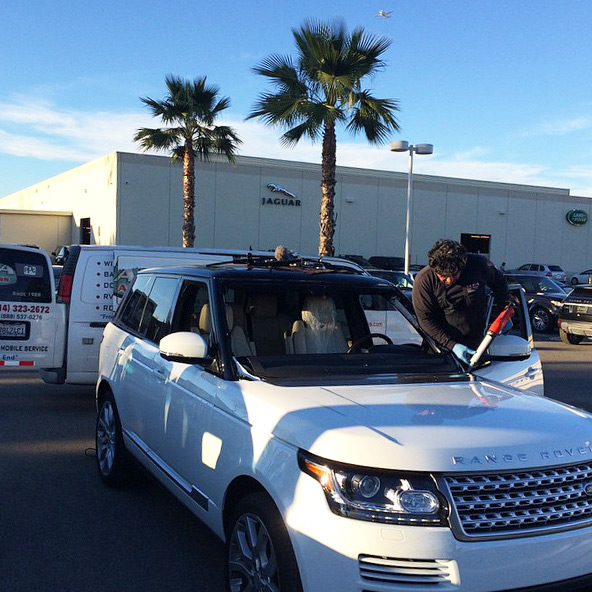 Finishing up windshield installation on a shiny white Range Rover
2015 Land Rover Windshield Replacement