Winnebago Windshield & Window Repair / Replacement
We Replace and Repair Windshields For All Winnebago Models
Alfa Auto Glass has been servicing all of Southern California since 1988. Our service is 100% mobile, which means we come to you.
Call (714) 323-2672 for a free quote today. WE SERVICE SOUTHERN CALIFORNIA ONLY.
Why Alfa Auto Glass?
We specialize in RV windshield replacement and repair. We have been working on RVs for more than three decades – we have the tools, knowledge, and expertise required to replace RV windshields correctly. The average windshield repair outfit will most likely not have the experience required to do the job right.
Winnebago Models We Service
We can repair or replace the windshields of any of the following Winnebago models:
| | | |
| --- | --- | --- |
| Adventurer | Intent | Spirit |
| Aspect | Journey | Suncruiser |
| Boldt | Journey Express | Sunova |
| Brave | Minnie Winnie | Sunrise |
| Class A | Navion | Sunstar |
| Class B | Outlook | Tour |
| Class C | Porto | Travato |
| ERA | Revel | Vectra |
| Forza | Rialta Eurovan | View |
| Fuse | Sightseer | Vista |
| Horizon | Solis | Vita |
If you don't see your model above, we can still repair or replace your windshield. Call (714) 323-2672 and we will be able to help you right away.
We Replace Any Kind of Winnebago Windshield
Do you replace/repair windshield on vintage or older Winnebagos?
Yes. It may take a little longer to source the windshield and required parts, but we replace the windshield on older Winnebago models regularly. Be sure to have your vin number ready so we can search for your windshield.
How long does it take to replace the windshield on a Winnebago RV?
On average, it takes about two hours to replace a windshield on a Winnebago RV.
2019 Winnebago Forza windshield glass ready for installation
Will my insurance cover the replacement or repair?
We regularly work with insurance companies to cover the cost of RV windshield replacement. Each insurance policy will vary in terms of deductible and what kinds of repairs they will cover. We've found that most insurance companies will cover RV windshield repair, however, the RV owner will need to pay whatever deductible is required by their insurance policy.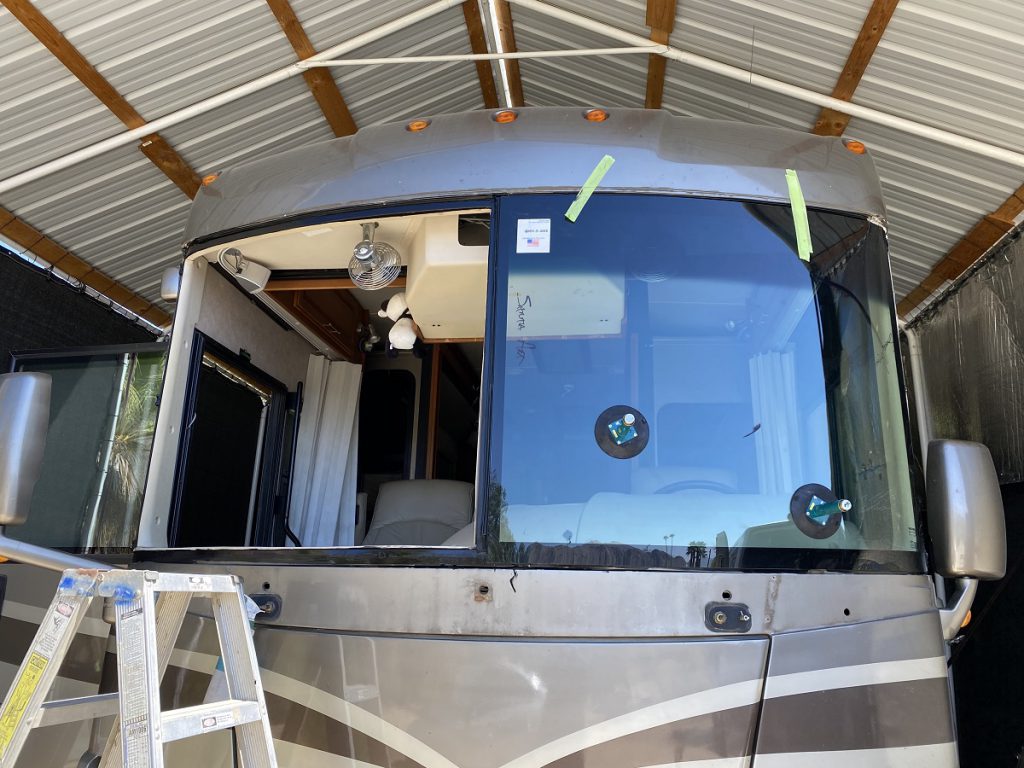 Replacing Windshield on 2004 Winnegago Vectra
Technician Replacing Winnebago Windshield
Alfa Auto Glass performing Winnebago RV windshield replacement
Job complete – another satisfied customer!
2006 Winnebago Horizon with new left and right windshields
Mid "Surgery" – 2004 Winnebago Advantage
We can replace ANY RV window! Even back and rear RV windows.
2016 Vista windshield replacement (baseball bat damage)
Driver side window replacement on a 2016 Vista
Windshields replaced on 1993 Brave (Before and After Pictures)
2016 Winnebago Sunstar Windshield Replacement
Working on a 2002 Winnebago Horizon
Additional Information