Auto Glass Chip Repair
Vehicle windows can get chipped from time to time. This can happen to side windows, vent glass and rear windows. If your vehicle window has developed a chip, please called (714) 323-2672 to schedule an appointment for repair.
Please Note: We only service vehicles that are physically located in Southern California.
Alfa Auto glass can repair glass chips on cars, RVs, semis, SUVs, trucks, vans as well as on campers and trailers.
We Travel To You
We can travel to your home or work to perform chip repair. Please call (714) 323-2672 and let us know when a good day and time would be to come to your vehicle.
How Long Does Auto Glass Chip Repair Take?
It's a fairly quick process. Usually, once we arrive the process takes less than 30 minutes. Sometimes it takes less than 15!
Fast Auto Glass Chip Repair
Alfa Auto Glass has been providing fast auto glass chip repair for years. There are a lot of insurance policies that will actually pay for the repairs for you. Give us a call and speak with one of our representatives to find out more about a free auto glass chip repair for your vehicle.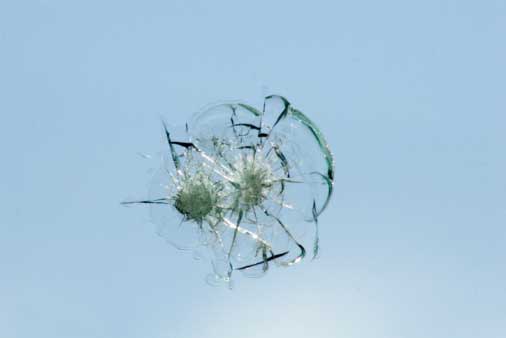 Pictured Above: Chipped Auto Glass
Paying With Vehicle Insurance
We work with all insurance companies and even file the paperwork with the insurer for you. We come to your location, do a really fast and accurate job, and work hard to make sure we do all paperwork to minimize your out-of-pocket cost or get it totally free – what more could you ask for? Call us today at (714) 323-2672.
Will My Glass Need To Be Replaced?
In most cases, the answer is no. However, if the chip is more of a puncture where the structural integrity of the glass has been compromised, we may suggest replacing the glass entirely.
Other Services Provided by Alfa Auto Glass