Acura Windshield & Window Repair / Replacement
We replace and repair windshields for all Acura models
Alfa Auto Glass has been servicing all of Southern California since 1988. We drive to you to replace or repair your windshield. Call (714) 323-2672 for a free quote.
We've been replacing Acura windshields since Acura has been around. Acura hit the U.S. market in the mid-1980s, right when we launched our business as well. You can say we're very familiar with Acuras and how their cars have changed over the years. We know them well!
Here's a list of Acura models that we regularly service:
Cars (Coupes & Sedans)
| | | |
| --- | --- | --- |
| CL | NSX | TL |
| ILX | NSX GT3 Evo22 | TLX |
| Integra | RL | TLX Type S |
| Integra Type S | RLX | TSX |
| Legend | RSX | Vigor |
Sports Utility Vehicles (SUVs)
| | | |
| --- | --- | --- |
| CDX | MDX Type s | SLX |
| MDX | RDX | ZDX |
Why You Should Choose Alfa Auto Glass
Alfa Auto Glass is one of the oldest, most consistent mobile windshield repair businesses in Southern California. We've been in business since 1988 servicing all of Southern California. Considering this geographical region is the world's largest car market, we've serviced every single vehicle imaginable. From exotic to vintage. From economy cars to luxury vehicles. We even service RV, 16 wheelers and construction equipment. Here are a few more reasons why you can count of Alfa Auto Glass:
We have processes in place to not scratch your car paint or damage your vehicle (a typical rookie mistake)
We can source all required parts and glass at a moments notice
We follow factory recommendations to make sure windshield installation is done properly
How Much Does It Cost To Replace An Acura Windshield?
For newer models, the typical cost to replace an Acura Windshield is between $300 – $600 depending on the model. For older models, the price ranges between $200 and $350 depending on the model.
How Long Does It Take To Replace An Acura Windshield?
Depending on the model, it takes about an hour to replace an Acura windshield. Some of our clients have us do the replacement at their place of work as to not to interfere with their daily commuting routine. Call us at (714) 323-2672 to schedule an appointment and we can come meet you at your office or home.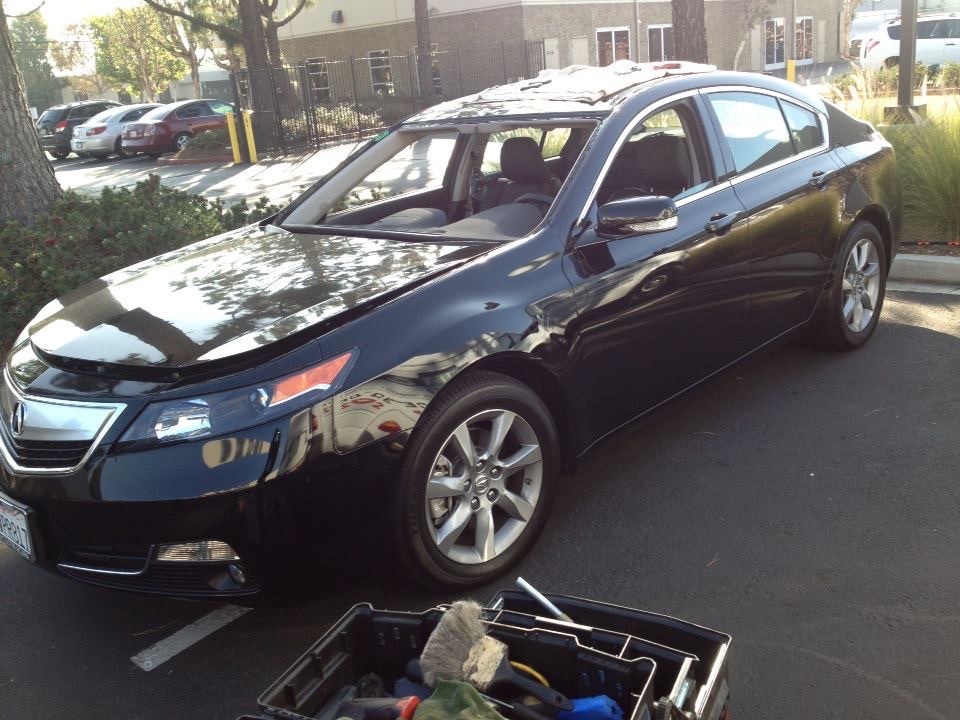 Replacing Acura Windshield
Other Acura Window & Glass Services
At Alfa Auto Glass we do more than windshields. We can replace side mirrors, side windows, rear windows (passenger and driver side), and quarter glass on Acuras. We can also replace window motors and regulators. We also do windshield calibration for newer Acura models (older models don't need calibration).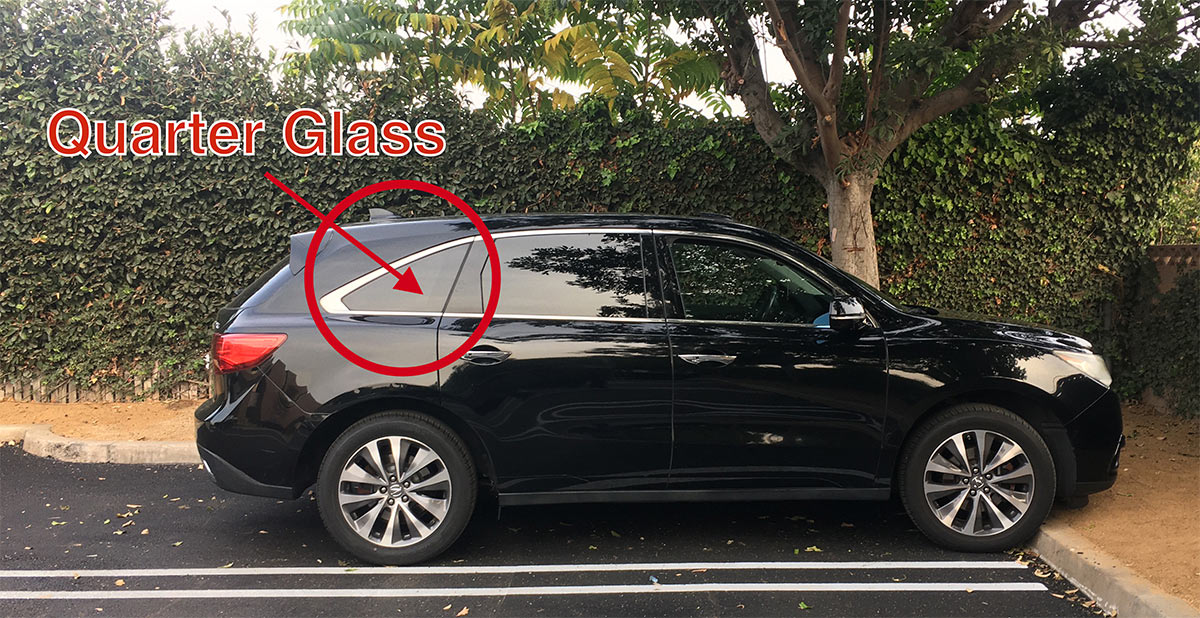 Shown above: Location of quarter glass on Acura MDX
Would Your Prefer To Meet At Our Headquarters?
You are also able to drive to our business headquarters in Tustin, CA and the windshield repair or replacement can be done there. You can schedule an appointment by calling (714) 323-2672.
Acura MDX Rear Window
Who Make Acura Windshields?
The following auto glass manufacturers make windshields for Acura vehicles: